Interactive Table of Contents
---
From or About Our Members
---
Past Camping Todays
Camping Today is a publication of the non-profit National Campers & Hikers Association, doing business as Family Campers & RVers (FCRV). Issue frequency is 12 (monthly) on line at www.fcrv.org. Publisher is Family Campers & RVers, 4904 Transit Rd. Bldg. 2, Depew, New York 14043-4906. Office Manager – Pat Wittmeyer 716-668-6242, [email protected] Camping Today is supported through FCRV memberships.  OWNER: National Campers & Hikers Association, doing business as Family Campers & RVers (non-profit), 4804 Transit Rd. Bldg.2, Depew, New York 14043-4906. Bondholders, mortgage, and other security owners holding 1% or more of bonds, mortgages, and other securities: NONE. The purpose, function, and nonprofit status of this organization and the exempt status for federal income tax purposes has not changed in the last 12 months.
Camping Today Staff
Please send articles through the new
'Camping Today' Submission Portal Page.
https://fcrv.org/camping-today-submission-forms/. 
'Camping Today' Submission Forms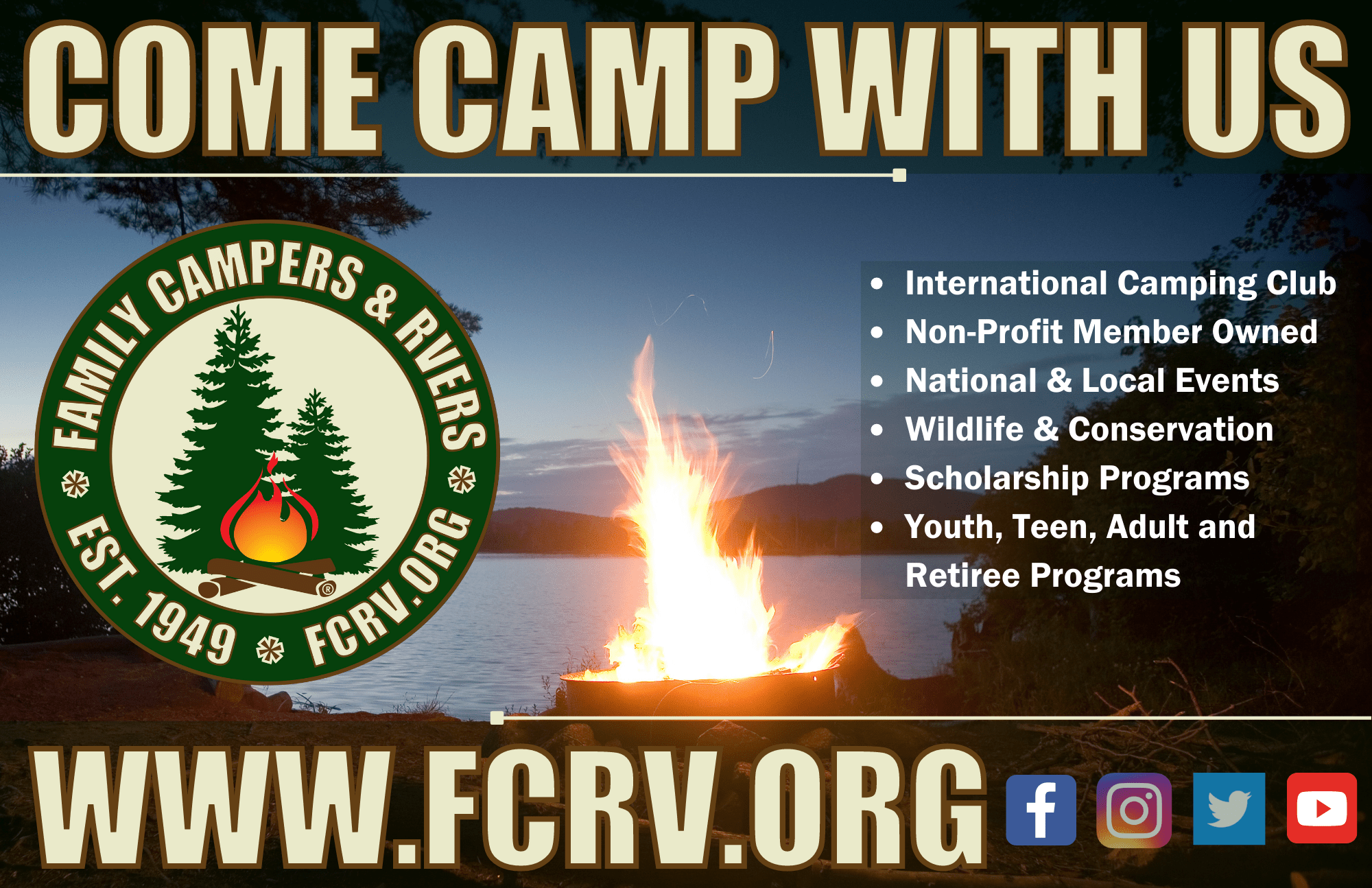 Message from the "Camping Today" Staff
Message from the "Camping Today" Staff
By the time you read this, the 2023 Campvention will be underway. This is the month your 'Camping Today' Staff takes time off to travel and attend our organization's biggest event. So this month's issue will be short.   We will have a pack-filled issue recapping the event in the following months. In the meantime, we would like to leave you with this message.
Over the past two years, the "Camping Today" team has worked very diligently to provide a monthly magazine that is informative and meaningful to both current and potential members. We have made great strides; however, we need YOUR help.
Members want to read about people they know and see events they might possibly attend. Many of you are doing a great job in providing events for our calendar and recaps of those events once they are held. If you are not seeing information about your state or province, it means the information is not being supplied. The "Camping Today" team does not create content. We need our members to help by submitting articles.

The "Camping Today" staff wants to start receiving articles for all our regional, state, and provincial events. We would like to get 2 things in this regard:
A pre-event article advertising and explaining what will happen at your regional, state, or provincial function a few months before it happens

A post-event recap with pictures showing off all the fun times that were had.
Regional, state, and provincial directors should be communicating this to the event organizers in their areas so they can plan ahead of time to get people to write and/or take pictures at our major events.
In addition to the camping and other events of our camping family, we also want to know what is happening with individuals. We want to celebrate members' milestones within the organization and outside of it.
Is someone celebrating a significant achievement (graduation, work promotion, receiving an award)?




Is there a couple in our family celebrating an anniversary of their marriage? How about a  birthday? Let us hear about it!




Is anyone receiving an FCRV award? Chapter anniversary? 5/10/25/50th Membership anniversary. Snap a picture when you present them with the certificate and send that to us!




Is a Chapter, State, or Province doing something conservation related? This is huge for us. We definitely want to see articles and pictures about this!

Wildlife activities of chapters and individuals are also important to share.
These types of activities are posted on social media from our members, but it never seems to make it to our National level of communication to properly be advertised. It's much harder for this information to trickle up. That is why we need you as our eyes and ears
'Camping Today' Submission Forms