BRIEF HISTORY OF FAMILY CAMPERS & RVERS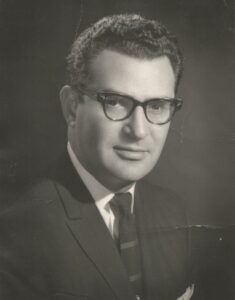 National Campers & Hikers Association (NCHA) was founded July 4, 1949, at the Beaverkill Public campsite outside Roscoe, New York in the heart of the beautiful Catskill mountains by H. (Hank) Ellsworth Nathan. It was incorporated in 1954 in the state of New Jersey and first maintained a national office at Newark. In 1962 NCHA was incorporated in New York State and the National Office was moved to 7172 Transit Road. Buffalo. Since 1986 the office has been located at 4804 Transit Road, Building 2, Depew. New York.
The Beaverkill River is famous in song and story as one of the most delightful trout streams in the country. Along with its fame as a fishing spot, it now is famous as the founding site of NCHA, doing business as Family Campers and RVers, for it was along this river where Hank Nathan was camping that events led to the forming of our organization. There was a wonderful, friendly crowd of folks camping on the hillside when a distinguished gentleman, a doctor, drove into the area with a small boy. It subsequently developed that he was staying at one of the fashionable hotels in the area and had decided to go for a ride with his son. A covered bridge aroused his curiosity enough to drive through it, and on the other side he found people camping and having a marvelous time. He was so impressed that he drove back to New York City, and returned with a tent and other camping equipment. Hank discovered him having all the difficulties of an amateur, and Hank was ready to help. While visiting with Hank, the doctor said, "Wouldn't it be wonderful to have a camping club"? This gave Hank an idea. He talked to the folks camping there and they said they would love to join, and then and there a club was organized. It operated for several years on more or less a local scale, and when campers outside of the group heard about how much fun the club was having, they asked to join.
In 1954 NCHA was formally organized, and there are now members in every state in the Union, the Provinces of Canada and a few in other countries. In 1960 the first Annual meeting (convention) was held with about 50 families in the Manhattan Hotel in New York City where a constitution and bylaws were formed and adopted by the new organization. John Grant of New Jersey was elected the first President of NCHA. Hank Nathan (Founder) was the first National Director. In 1993 the organization found that it needed a more up-to-date image and have the name of the organization reflect the changing times. After a year of research, the organization name was changed to National Campers and Hikers Association (NCHA), doing business as Family Campers & RVers (FCRV). This name encompasses all forms of camping, from the canvas camper to the modern motorhomes, and the name reflects that we are a family oriented camping organization.
State/Provincial Directors and their staff assist in the organization of local chapters, and carry on educational work at local, state/provincial and regional levels to encourage development of more campgrounds, to support conservation and wildlife efforts, to influence legislation in your area regarding items that affect our natural resources and the great outdoor life, and in general, to improve camping, hiking and RVing for everyone's enjoyment. Our National Program Directors assist the states/provinces in the individual programs assigned to each of them, i.e. conservation, wildlife, legislation, etc. All of these programs are open to all members of the FCRV family.
The first "Campvention" was held in 1961 in Lake of the Ozarks, Missouri with 272 families in attendance. The attendance grew to 1,120 families in 1962. The largest Campvention was held in Indiana in 1972 with 7,842 families attending. The Campvention became our "Annual Meeting" where a membership meeting is held each year. In the beginning states/provinces bid on hosting the Campvention each year, but in 1998 because of decreasing membership and not having enough workers for the event, a regional rotation was implemented. Since then the different regions which includes several state/provinces host the event each year. Along with the annual meeting, there are lots of hospitalities hosted by different states/provinces, planned seminars, projects or craft sales, Protestant and Jewish church services, Miss FCRV Teen Queen Contest, commercial sales, teen and youth activities, adult activities, conservation and wildlife displays, conservation contests, chapter scrapbook contests, chapter and state/provincial newsletter contests, indoor and outdoor games, great nightly entertainment, and on the last day, the campvention parade takes place, featuring walking units, the FCRV band, and beautiful amateur made floats. Campventions have enjoyable fun and activities for every member of the family.
The National Retiree Rally was started in 1972 with the first one held in Harlington, Texas. All members over the age of 50 are welcome to attend a rally. Along with lots of activities, good entertainment and catered meals, is the International King and Queen Contest. The annual rally rotates among the southern states of Florida, Alabama, Louisiana, Texas and Arizona.
Along with the annual Campvention and Retiree Rally, each state/province has one or two "statewide" or "provincial" campouts each year, regional campouts once a year, and your local chapters camp together at least once a month.
In 1993 NCHA adopted a trade name FCRV (Family Campers & RVers) to better describe our organization.