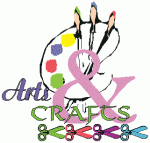 Crafts Chair Shirley Forbes announces a choice of three craft sessions during Campvention week.  She asks Campvention participants to register for craft sessions at the registration table upon arrival at Campvention.  Examples of the three crafts will be on display at registration.  Nominal charges for supplies for the craft sessions range from $1.50 to $5.00, depending on the item/s the participant creates.  Supply kits will be assembled for each participant for each craft.
Participants may make a wooden planter/pencil holder during the first craft session, offered Sunday, July 14, at 1:30 p.m.  The supplies cost for this quick and easy craft is $2.00.  Participants are asked to bring a scissors to cut plastic bottles.
Participants will learn to make paper bead jewelry during the second craft session, offered Monday, July 15, at 10:30 a.m.  The supply cost for this attractive jewelry ranges from $3.00 to $5.00, depending on the item the participant creates.
Creating fun jewelry from duct tape will be the third and last craft session, offered Wednesday morning, July 17, beginning at 10:30 a.m.
Craft Chair Shirley extends a special invitation to FCRV teens to attend this session!
Participants will have a choice of crafting bracelets, earrings or necklaces during this session.  The supplies cost is $1.50 per item.