– Written by Kimberly Robb –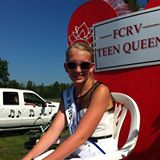 Many people have asked about Hannah's spinal surgery and recovery.  Here is a quick update:
Hannah had a spinal fusion on Friday, July 26th.  After ten long hours of surgery, the doctors were successful in fusing her spine and inserting rods.  She is in a lot of pain right now, but hopefully it will slowly improve.
We hope that Hannah will be able to go home from the hospital Tuesday, July 30th, or Wednesday, July 31st, if all goes well.  Obviously she has a long road of recovery ahead, but with prayers she knows she can make it through.
We hope to start off Hannah's year as Miss FCRV by attending the Indiana Summer Campout that she has been so graciously invited to attend.  We probably will not camp at first, but do plan on going up for the day as long as her recovery allows.
Hannah cannot wait to begin camping again and reuniting with old and new friends.  As soon as she is able, Hannah will give updates as her year progresses as Miss FCRV.
Thank you for your continued prayers!  We love you all!