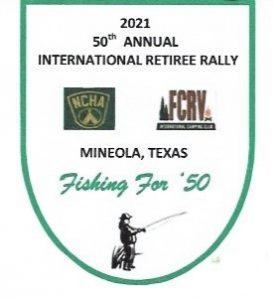 March 23rd-28th (Early Bird 19th-22nd)
Mineola Civic Center 1150 N Newsom St, Mineola, TX 75773
https://mineolaciviccenterandrvpark.com/
The 50th FCRV International Retiree Rally will be held March 23 thru March 28, 2021 at the Mineola Civic Center, Mineola, Texas.  Early Days will be March 19-22 at $35 per day which will be collected at the site.  Rally Coordinators Kip & Jan Cushing announced:  "The theme is 'Fishin' For Fifty', and we are angling to reel you in to some unique activities that feature fishing and fifty."
Mineola Civic Center and RV Park is located in historic Mineola, in beautiful East Texas.  It lies at the junction of U.S. highways 69 and 80, eighty miles east of Dallas in southwestern Wood County/ about 20 miles north of Tyler, TX which is on I-20.
The Mineola Civic Center and RV Park has full hookups with 30 or 50 amp on large, level, concrete sites with green grass.  Fast WiFi!  Two meals.  Ice cream social.  Shower facilities will be available.  The fee is $290 US for two people in the unit.  ($260 for one person in the unit.)
As this is our 50th year, if you have any memories that you would like to share then bring them with you or email them to Reba & Ron Ray, FCRV Retiree Directors, at reba256@yahoo.com so they can get something together – pictures, plaques, ribbons from years past. Let's make this rally special.
Plan on joining your FCRV family in Mineola, Texas in March.  Bring some friends!  Get registered!  See you there!
Retiree Rally Info from Reba & Ron
"FISHIN' FOR FIFTY" –   Fifty years of International Retiree Rallies.  Let's make this the big one.
Kip & Jan are planning on a big outing for our Retiree Rally.  The people at Mineola Civic Center are anxious for us to come.  Go ahead and make your reservations for March 19 for the early days and then March 23-28 for the rally.
We are looking forward to getting out and finally going places.  We hope you are too.  We hope that the Coronavirus is going to be coming to an end by the time the rally is opening up.  I know you are tired of being stuck at home also.
There is still some opening for a few committees so get in touch with Kip and Jan to help fill those committees.  Or if you would like to help on a committee then please let someone know.
We would like to invite new people to come to the retiree rally.  At our rallies we offer 2 meals, ice cream social, entertainment every night , dancing, and a lot more.  Remember you do not have to be retired to come. Anyone can attend and bring along a guest and let them see what we are all about.  If you do bring youths or teens, we do not have any entertainment for them but they will be included in activities that we have plani
Mineola is a little bit smaller than we are used to but we think it will meet our needs. Everyone will have full hook-ups and most will have cement pads. It is a beautiful park.  It also has a tennis court, and I think they have a pickle ball court.  They also have a pool but it still may be a little cool for a swim.  They also have a good place for a walk, so please sign up for
CAMP at the rally or a bike ride.
Hope to everyone there.  We missed seeing everyone this past year.
Stay safe,
Ronald & Reba Ray
FCRV National Retiree Directors
KING & QUEEN CANDIDATES
We are hoping for an actual Retiree Rally at Mineola, TX next year.  Think positively.  We need to plan as if it will happen.  That being said, couples that are King & Queen of their state or Providence should consider now if they would like to compete for International King & Queen at the Retiree Rally in March 2021.
First, you don't need to be selected by a separate retiree chapter – it can be just your province or state organization that selects you. Next, contact us for an application form and information about conducting your campaign. Prepare a write up about your selves that we can use to introduce you to the attendees at the Rally.   We need all applications by the end of January.
Next, prepare a bio (300 words or less) to publish in Camping Today, (a picture to DeWayne Johnston would be good). D_johnston01@outlook.com (need an underline sign "_" between D and j) . You can send it any time.
Then decide on campaign handouts & plan your hospitality at the Rally.
You get to meet many new people and make new friends.  Other friends will help you prepare for your Hospitality (yum yum).
The couple selected as K & Q are expected to represent FCRV for the year and attend the next Retiree Rally to pass on the crowns to the next K & Q.
Enjoy your selves, have fun and be part of the FCRV Retiree Rally. .Looking forward to hearing from you.
Ronald & Jo Hersom, King & Queen Coordinators                           winter—400 E 18th St. Site 9
905 Henry Dr., Marshalltown, IA 50158                                                       Weslaco, TA 78596
641-750-2774 (cell)
FCRV National Retiree Directors
ONE BIG FISH vs MANY SMALLER ONES
BY Jan & Kip Cushing
Games are a major part of the activities at the Retiree Rally.  We have not yet had anyone come forward to be the games chairman.  Because games chairman is a huge undertaking, we would like to have several people volunteer to chair just one or two games that are typically played at the rally (Bean Bag Baseball, Frog  Races, Ladder Golf, etc.).  If you would be willing to accept this challenge, please e-mail us at kcushing.wi.rr.com to volunteer.  If no one volunteers, we won't have the typical games in 2021.
We are planning an afternoon of special games that you will learn about at the time they take place.
Other committees that are in need of chairman are:  Alternates, Book Exchange, and Group Photos.  While we have chairman for other committees, many still need co-chairman.  Please let us know if you would be willing to be a co-chairman.
REGISTER FOR "FISHIN' FOR 50", THE 2021 RETIREE RALLY IN MINEOLA, TEXAS.