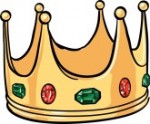 Congratulations to the 2014 International Retiree King & Queen, Dick and Kathy Buresh.    May they have a wonderful year representing FCRV, which by the way, is all of us.  Those of you who were at the Rally in Canton, TX and witnessed the crowning of the 2014 King & Queen, we thank you for being there.
It is now time to think ahead to 2015 Retiree Rally in Tallahassee, Florida. Have your State or Province select a King & Queen and then enter the race for International Retiree King And Queen in Tallahassee.
To enter please contact John & Delores Derrick by US Mail, E-Mail or telephone and we will send you all the information we need.  It's lots of fun to get into the spirit of running for King & Queen, plus you get to meet a lot of people.
John & Delores Derrick                      E-mail:  JWDERRICKJ@AOL.COM
10521 Broad River Road                     Telephone::  (803) 781-1703
Irmo, SC  29063                                Cell Phone:  (803) 513-5099