'Let the Good Times Roll'
Ron & Reba Ray
Rally Coordinators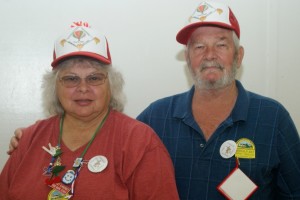 Again we invite everyone who can to attend the FCRV National Retiree Rally in Houma, LA. We have made great plans and have lots of volunteers to help us put on one of the best rallies ever. We invite you to come early and visit the surrounding area, as there is so much to see. In Barb Turner's article for this issue of Camping Today, she has outlined lots of places to visit.
We have great music plan for the rally; so bring along your dancing shoes and let's 'Let the Good Times Roll.' We have a big brass band, easy listening music, Cajun, and some vocalist as far as the entertainment. This is a variety; they should please just about everyone. And, of course, we have our own FCRV members in the variety show.
If you have not registered, please do so as soon as possible so we can get a count of how many to plan for as far as meals and such.
We look forward in working with everyone and of those we have not really met, we would like you to come by and introduce yourselves to us and let us get to know you as well.
Six months to the rally, not far away; so start making your plans now.
Hope you see everyone in Houma, LA.