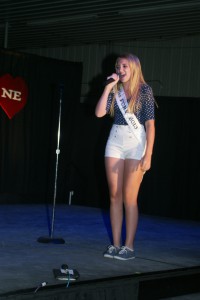 Miss FCRV 2013 Hannah Robb can sing opera and belt out a Taylor Swift number.                             [Photo by Ron Standiford]
Fourteen-year-old Hannah Robb of Louisville, Kentucky, was selected from a field of 13 to be Miss FCRV 2013 at Family Campers and RVers' annual July Campvention, held in Amana, Iowa, this year.  Hannah is the daughter of Kimberly Lile and Frank Robb, members of the Camping Colonels Chapter of FCRV.
Hannah is in the ninth grade at Atherton High School where she plays field hockey and is on the swimming team.  She is a straight-A student and is working toward a Governor's Scholarship which requires a 4.0 grade point average during 9th-12th grades.  She likes social studies, science, and math, but her main interest is singing.  Hannah has sung in church all of her life, but until her chorus teacher encouraged her to try some other music such as opera she had not taken it seriously.  With the help of Miss Marks-Morgan, Hannah discovered that opera allowed her to develop her full vocal range from  soprano-one to tenor.  It also gave Hannah a different feel for music.  Miss Robb has been taking lessons since March and was in the 2012 and 2013 All-State Choir.  The song Hannah chose for her talent performance in the Miss FCRV Pageant was "Se Tu Ma'Mi" by Pergolessi, which she sang it in Italian.  Hannah plans to "tackle the hard stuff" in school Chamber Choir.
Hannah has been active in the Parkland Baptist Church Youth Group.  She has attended a Student Life Mission to Talladega, Alabama, where she and others brought cheer to elderly veterans  by teaching crafts, singing, and simply talking with the veterans about their lives.  Even with all of her serious activities, she is still a typical teen who collects stuffed animals and posters of Taylor Swift and Justin Bieber.  Hannah says she is always on the phone, and she also loves art and painting.  Having been in FCRV for several years she recalls her younger days at Campvention with good friend, Mercedes Tennyson , the current Miss Kansas,  out  'relocating' the  state mascots.
Hannah won her first state pageant last year in Kentucky, following the footsteps of her older sister, Alyssa Robb who was also Miss Kentucky and went on to become Miss FCRV 2012 at last year's pageant in Ontario, Canada.  History repeated itself this year through Hannah as she entered the pageant and was crowned Miss FCRV.  This is the first time two sisters have held the title of Miss FCRV in consecutive years.  Hannah was very surprised when her name was called as Miss FCRV 2013.  She said, "I wanted to be like my sister but I didn't expect it  so soon. I thought it would take a few years."  Alyssa had the honor of crowning her younger sister.
Hannah hopes to become an O.R. Nurse and continue her music.