Article by DeWayne Johnston – Photos by Barb Turner
Alyssa Robb, 18 of Louisville, Kentucky, has been selected as Miss FCRV for the coming year. She is the daughter of Kimberly and Chris Lile, members of the Camping Colonels Chapter which celebrates its 50th year in 2012. Alyssa has a sister, Hannah, 13. Her mother grew up in NCHA/FCRV and her grandparents, Wendell and Verna Cash are also longtime members. Alyssa is the first Teen Queen representing Kentucky to win the national Miss FCRV Title.
Alyssa has devoted her life to competitive gymnastics and was Kentucky State Champion for three years. In school she was on the dance team and also was a cheerleader. She has been active in her church youth group and volunteers at Kosair Children's Hospital. Alyssa will be attending Bellarmine University in Louisville in the fall and plans to be a physical therapist.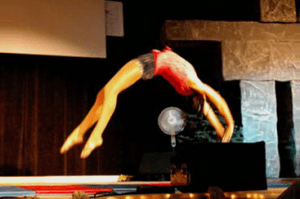 Alyssa tumbles for her final time on the FCRV stage.
This pageant was both physically and emotionally taxing for Alyssa. She broke her back four years ago as a result of gymnastic activity and has to give up tumbling due to pain and possible further injury. Her performance at this year's Campvention will be her last for gymnastics. She will be able to continue dancing and clogging. Emotionally, Alyssa felt the presence of her grandmother Verna Cash who died four years ago and was always an inspiratrion to Alyssa.
Like many teens, Alyssa has a collection. Hers is giraffes of all types and sizes. She loves to visit zoos during travels. Alyssa said she enjoyed being friends with all the 11 other contestants and that the pageant was very well run. She also enjoyed participating in the variety of teen sports at Campvention.