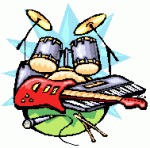 FCRV International Band Director Craig Weber is looking for volunteers for the band!  "If you play an instrument, are planning to attend the 2013 Campvention in Iowa, and are looking to have a really good time, now is the time to volunteer!" says Craig.
He explains the international band program, saying "We play a variety of music, most of it at an easy to medium difficulty level.  Music can be a challenge if you've not played in a number of years, but we can help get you in shape!"
"We practice twice a day, morning and afternoon, for about an hour each time.  This allows you to rebuild your endurance and still participate in most other Campvention activities."
Craig further extols the benefits of participating in the international band; "1) It's a chance to meet new friends who enjoy making music; 2) you get a free FCRV International Band tuxedo t-shirt; 3) a free band badge with rocker listing the place and year; 4) a free pizza party; 5) snacks at each practice (possibly only water!); 6) a free ride along the Campvention parade route as you play; — and so much more!"
If you're interested in playing in the band, bring your instrument and enthusiasm to the first practice, as noted in the Campvention program booklet you'll receive upon your arrival at Campvention.  You are also asked to bring with you a pair of black pants or shorts and dark shoes.  Music, music stands and most other essentials will be provided for you.
If you would like (or feel you need) a jump start on the music to be performed, please e-mail your name and address to Director Craig, at w6465@geneseo.net, along with a note identifying your instrument and playing level; and Craig will mail you copies of the music.
Craig looks forward to seeing you in Iowa and working with in the International FCRV Band!