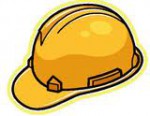 Attention All Men!!  Do you remember fending for yourself for lunch while your wife was enjoying the Red Hat Luncheon at previous Campventions?  Well, … no bologna sandwiches for you this year!
Plan to attend the Hard Hat Luncheon, planned especially for FCRV men, and scheduled at the same time, Thursday noon, July 18, as the ladies' Red Hat Luncheon.
The luncheon guest speaker will talk about the local trades in the Amana Colonies.
The dress code for the lunch includes t-shirts, jeans or shorts, hard hats or other construction clothing; tool belts are optional!
Hard Hat Luncheon tickets will be available in the registration area, in conjunction with the Red Hat Luncheon tickets.  Hard Hat Luncheon Chairs Ken Kendall, John Mueller, and Chuck Warner urge guests to purchase their luncheon tickets at their earliest convenience upon arrival at Campvention, to guard against bologna sandwiches for lunch that day!