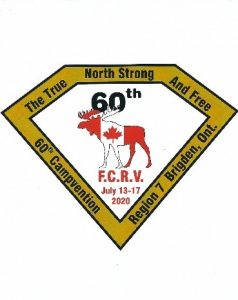 The True North Strong & Free
From Shari Weber, FCRV President
It was disappointing to cancel our campvention in Brigden, Ontario.  The FCRV family was looking forward to "The True North Strong and Free". FCRV leadership and the campvention team including Camy Hicks, Lynn Acre, and Lorne Douglas put their heads together to see how to make the best of a frustrating situation.  This is only the second time in our history that campvention has been cancelled.  The first time was in 1974 during a gas shortage.  The required annual meeting was held in Indianapolis that year.
Plans for providing some campvention activities during the original campvention dates of July 13 – 17, 2020 began taking shape.  Jill Serbousek was tapped to be the technical guru.  This is all new for FCRV and we are learning new ways of doing things.  Zoom has become a tool to help us connect with each other and do some amazing things.  It is exciting to see all the efforts begin to come together!
Opening ceremonies are being planned by the campvention team.  I am sure we will kick off our virtual campvention in style.  Additionally, we will present awards and hold the FCRV annual meeting where our new Trustees will be installed.
The FCRV International Band under the direction of Craig Weber already has one song almost ready for prime time.  They are working on a couple of other songs.
A shoe box parade is being headed up by Carl & Sue Fromholzer.  All that Glitters is the theme.  Just find your glitter and be creative.  Take a picture and send it to Carl & Sue.  The parade will be shown sometime during the virtual campvention.
Beth O'Neal is putting together a pet parade.  Guidelines for the parade will be sent out as soon as we have them.  I am sure the FCRV fur babies will enjoy being featured.
The Teen Directors, teen and young adult volunteers are putting together several exciting things focusing on the interests of teens.  There will be some things focusing on youth as well.
Those of you who enjoy crafting we are looking at some opportunities there.  We have a possible contact with someone who will help us with a painting class.
Even some games are being planned.  Believe it or not playing corn hole and ladder golf virtually is a real thing.  We will figure it out for us.  Bragging rights and virtual ribbons are at stake here.  Someone might become our first ever virtual champion.
Finally, some of our commercial vendors are providing online seminars.  These seminars will be presented during campvention week.  They will then be left online to view other times.  Please support these vendors.  They have supported us.
Virtual Campvention, The True North Strong & Free will have its own section on our website and will be posted July 13th – 17th.  The opportunity to view the campvention events will be available for at least another month past the close of campvention.  Watch for facebook posts, You Tube videos, and "Camping Today" for additional information and a schedule.  No virus is going to get the FCRV camping family down!