For months Entertainment Chair Eldon Sellers has been researching area entertainment options, making contacts and entering into contracts.
Sellers has reserved Tuesday evening, July 16, for the Teen QueenPageant; and you'll want to get that special event on your Campvention week calendar too!
            The Good News Gospel Quartet from Salina, KS, will entertain
us Saturday evening, July 13.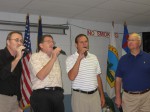 The Good News Gospel Quartet, organized in 2008, is composed of four friends from different walks of life sharing a common interest in Southern gospel music.  The group looks to the Gaithers for their musical inspiration.
Lead Singer Jerry Franklin is a pharmacist, Tenor Rick Rasmussen is a parts manager for a multi-line car dealer, Baritone Roger Mattison is a Salina area farmer, and Bass Gary O'Hara is a dentist.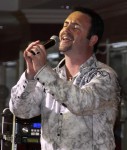 Vocalist John Sager of Branson, MO, will perform for us Sunday evening, July 14.  He performs country, gospel and rock and roll music.
Born in Quebec, Canada, John Sager was adopted at six months old and raised in Deshler, OH. He discovered his musical talents early in life, taking piano lessons at age nine.  He sang in his high school choir and played trombone and tuba in his high school band.  He learned to play guitar in college.
He has been the opening act for BJ Thomas in Toledo and Bobby Rydell in Tiffin, OH.
He moved to Branson, MO, in April 2009.  In 2010, his first year of singing professionally, John's CD, "Living the Dream," was nominated for Best CD of Branson.  "Unchained Melody," a song from that CD, was nominated for Best Song of the Year.  John was also nominated for and won Best Male Vocalist of Branson from Branson Show Awards.
After performing 40 shows in three months in the Rio Grande Valley of South Texas, John was named "Best Male Vocalist" of South Texas and "Best Male Entertainer" by the Winter Texan Times.
He again was nominated for and won Best Male Vocalist in 2011 in Branson.  His CD, "Faith, Hope and Love," was nominated for and received Best Gospel CD by Branson Show Awards for 2011.
He returned to the Rio Grande Valley of South Texas a second year; he again was honored as Best Male Vocalist by the Winter Texan Times.  He also won Best Male Vocalist and Best Overall Entertainer in the Rio Grande Valley.
John Sager is a "Singing Server" at Mel's Hard Luck Diner in Branson, MO, Sundays through Wednesdays from 2:00 p.m. until closing.  In 2011 he also began serenading guests at Jackie B Goode's Uptown Diner Thursdays through Saturdays for lunch, from noon until 2:00 p.m.
The Brett Family, from Branson, MO, will provide a musical variety show on Monday evening, July 15.  Having appeared on worldwide television and in more than 3,000 live performances around the globe, the Bretts deliver high-energy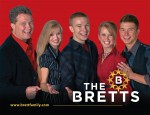 professional entertainment to audiences of all ages.
As singers, songwriters, dancers and musicians, each of the Brett family members can deliver solo performances, but together the Bretts are captivating, exploding onto the stage with music, dance, artistry, and lights.
The Bretts have been three-time guests of the Morman Tabernacle Choir and twice guest artists of Tony Orlando's Veteran's Special.  They have shared stages with other artists ranging from Lee Greenwood to Larry the Cable Guy.
The Bretts have received numerous awards and nominations in Branson, including Best Holiday Show, Best Ensemble Entertainers, Best Vocal Group of the Year, and the coveted Best Morning Show of the Year 2010 and 2011.
The seven-member Pocket Tones jazz ensemble will entertain Wednesday evening, July 17.  Officially organized in 2008, all band members are Xavier High School graduates from Cedar Rapids, IA.  Three of the seven band members play multiple instruments.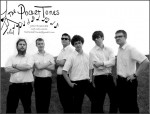 Three band members are college music majors, while the remaining four are members of their respective college marching bands.
One of the band's founding members, Jacob Rouse, played in the FCRV International Band and  is a former Iowa FCRV King.
The band will perform a variety of music, but primarily jazz and big band selections.