A SUNNY SUCCESS IN IOWA
Blue skies were smiling at our camping family as a total of 351 families (341 units on grounds, 8 camp passes and 2 day passes) enjoyed FCRV's 53rd annual Campvention: Heart of the Heartland. Of these 351 units, 42 units were First Timers, along with 36 youth and 61 teens. Held at the RV Park and Event Center in Amana, Iowa, provided campers with a level and green setting for a wonderful week of fun, friendship, and a celebration of camping.
Although the official opening date was July 14th, many arrived two days early and enjoyed the limited pre-Campvention activities.  On Friday evening (July 12th),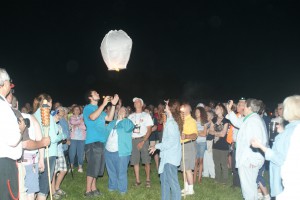 sky lanterns were launched in remembrance of Campvention committee members who passed away prior to July. Those honored included Eldon Sellers, Jim Selby, Leonard Kloewer, Connie Long, and Pat Conley. The Bortons and the Kendalls led the brief memorial service. Saturday evening (July 13th) featured stage entertainment by the Good News Gospel quartet from Salina, Kansas.
The official opening flag ceremony took place at 8AM on Sunday, July 14th, with Joanie Stone giving the origins of the Canadian and U.S. Flags; Miss FCRV 2012 Alyssa Robb led the pledge of allegiance; and both the Canadian and U.S. anthems were sung. Campvention Charman, Glenda Sellers welcomed everyone and introduced Jim Mohny and Laura Sue Woods from the Amana Society who welcomed FCRV to Amana. In keeping with tradition, Shari Weber presented Ms. Woods with a certificate making Amana an Honorary FCRV Chapter. Last, but certainly not least, International Retiree King and Queen Leon and LaNelle Ishmael held the opening ribbon while Ayssa Robb made the ceremonial cut allowing FCRV President Dave Ludwig to declare the 2013 Campvention officially open.
Following Opening Ceremony, the Interdenominational Church Service was led by Rev. Stephanie Hill. Rev. Hill gave a wonderful sermon that brought tears to many eyes as she was also celebrating her tenth anniversary of being crowned Miss FCRV 2003. The FCRV Choir completed the service with their participation.
Sunday afternoon, dubbed "Family Fun Day" this year, opened Campvention to the local community for those interested in learning more about the organization, the areas we serve, and the fun we have. The large field beside the camping area serving as the setting for many activities: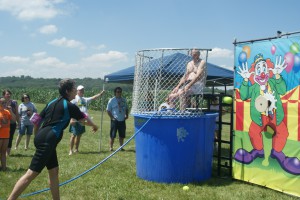 Sue Carlsen throwing to dunk Immediate Past President Jack Smye.                                the teens serving a hot dog/hamburger lunch, ladder golf, bean bag toss, face painting, and a dunk tank. Several of the trustees showed they were good sports by getting dunked by folks who paid $1 a ball or $5 to just hit the dunk button. $165 was raised. Those who got wet included Scott Serbousek, Sue Carlsen, Shari Weber, Jack Smye, George Walters, Vodean Benham and even the 'Pres', Dave Ludwig. The community was invited and radio station KHAK did a live broadcast.
Sunday evening opened with Shari Weber and Dave Ludwig presenting awards for service to FCRV. The President's Public Service Award went to Bill and Beverly Jordon of Iowa. Receiving Citations were Jim and Jean Keenlyside, Ontario, Ed and Angie Shaneyfeldt, Indiana, Jan and Ward VanArsdall, Nebraska. Plaques were presented to Jim and Priscilla Paul, North Dakota, and Robert and Karen Snodgrass, Ohio.
The Explorer Chapter of Nebraska was named Chapter of the Year and Eldon Sellers was honored posthumously with the Hank Nathan Lifetime Achievement Award. The evening's entertainer, John Sager from Branson, Missouri, lived up to his award winning reputation by fully engaging the audience for over two hours with a wide variety of music and stories. He often ventured into the audience singing directly to ladies [left]. The audience had a "sing off" with "Mustang Sally" and four guys from the audience volunt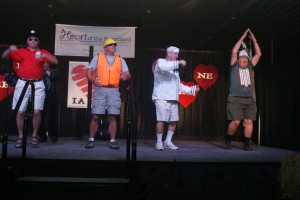 eered for an unknown task that turned out to be dressing as the Village People and singing "YMCA" with Sager [below, right].  A moving version of "American Trilogy" had the audience singing along. Sager ended his show with "God Bless the U.S.A," but before that he sang "You Raised Me Up" which was one of Eldon Sellers' favorite songs.
Monday evening was strictly for entertainment. Emcee Jim Hiatt introduced The Brett Family from Branson, Missouri, [below] and two hours of music, comedy, patriotism, and faith began. 28-year-old Brydon was the front man, doing several comedy numbers including an exaggerated country singer, Michael Jackson, Bobby Darrin, and, with the help of brother Garon, did a basketball gymnastic dance, and took the Blues Brothers into the audience. Dad, Tom, played classical guitar and keyboards and did several solo numbers. Mom, Andrea, recited a wonderful poem "I Am a Veteran," and did a great duet with Tom on an original song they began writing after September 11th, 2001, and finished after the Oklahoma tornadoes titled "Say I Love You Today." They received a well-deserved standing ovation.
Tuesday was a busy day for everyone, especially the 13 Miss FCRV contestants (with the Teen Queen Tea and interviews in the morning, the talent presentations on stage in the afternoon, and culminating in the evening Poise & Confidence, Evening Gown, and the Final Crowning). Between the evening pageant and the FCRV Band concert, which was outstanding, the FCRV Program awards were presented (listed separately). Crowned Miss FCRV for 2013 was Hannah Robb from Louisville, Kentucky. First Runner-Up was Brittany Huryn from Washington, Michigan; Second Runner-Up was Abigail Moats from Ames, Iowa; Third Runner-Up was Kerri McHale from Carthage, New York; and Fourth Runner-up and Miss Talent was Erin Martone from Panama City, Florida. Miss Congeniality was Beth O'Neal from Florrisant, Minnesota (more in a separate article).
Chapter projects kicked off Wednesday morning along with teen and adult sports. At 1 PM a special program on raptors was presented by Linette Bernard of S.O.A.R. Thora the rescued eagle was not able to attend, but Bella a red tailed hawk was shown. At 3 PM the annual FCRV membership meeting was held. The current Trustees were introduced as well as past Presidents on hand including Juanita Woolworth (Don), Denny Campbell, Jim Turner, Larry Roop, and Glenda Sellers (Eldon). Comptroller Vodean Benham reported that as of June 30th, 2013, FCRV's income for the year exceeded expenses by $202. Interest on the Scholarship and Wild Life Funds are sustaining the annual grants. Lloyd Humphrey accompanied by two unusual 'cows' (aka the Twins) invited everyone to Essex Vermont next July 7th-11th for Campvention 2014. The 2013 Chapter of the Year Award was presented to the chapter members of the Explorers of Omaha, Nebraska, on hand and received a large banner suitable for display at campouts. Jerry Pfirsch received the charter for the new chapter he started in South Dakota after moving there from Colorado, the Aberdeen Night Owls. President Dave Ludwig thanked the 2013 Campvention Steering Committee from Region 3 and presented them with certificates – Chairman, Glenda Sellers; Co-Chairmen Ken & Sandy Kendall; Team Leaders: Earl Vanderhoff & Steve Witmer, Gerald Pfirsch, Ivalee Vanderhoff & Anita Mueller, Shirley Forbes & Marcia Witmer, JeAnne Selby & Kara Cornwell. Ludwig noted that FCRV is losing more members through attrition than it is gaining and asked everyone to invite new members to "Try it before you buy it" through the six-month Cadet Program. Also recognized were Vickie Roop, Jill Serbousek, and Sarah Camp for their dedication in getting the new FCRV website up and running.
Wednesday evening began with the annual FCRV Scholarship meeting. Jack Smye reported that the Scholarship Fund, which is a separate entity from the general fund, is self-sustaining with the grants coming from interest on the assets which are currently $277,414. This year 11 of 13 qualified applicants received scholarships (separate article). Winners of the site decorating contest were awarded cash prizes by Craig and Shari Weber of Geneseo Campground (separate article). Adventure Caravans held a drawing for a $2,995 Mega Rally.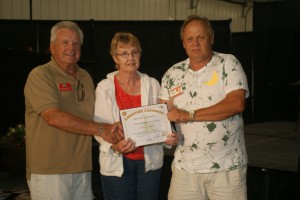 Winners were Jerry and Birty Tilley of Kansas [right].  Karen and Richard Snodgrass presented the adult sports/games awards and Mike Hiatt and Jim Turner presented the golf winners (separate articles). Entertainment was by the Pocket Tones, 6 college students from Cedar Rapids, Iowa, who supplied two hours of smooth jazz. Group member Jacob Rouse played trumpet in the FCRV band and is a former Iowa Teen King. Meanwhile, the teen center was jumping with the Teen Queen Ball.
Thursday morning the FCRV 25 unit parade lined up for a tour of the grounds perimeter. High temperatures and humidity may have dampened the participants but not their enthusiasm and creativity (separate article).
On Thursday afternoon the first timers reconvened and offered some suggestions to the Trustees on hand for future Campventions to make them more enjoyable. Thursday evening's program began with presentation of parade awards by Marv and Gerri Huschka (separate article). Mary Borton introduced Jake Sanders from the Iowa City Ronald McDonald House and presented him with a check for $1,064.00, raised by FCRV members who collected 901 pounds of aluminum tabs. Mr. Sanders introduced a young man named Jesse who told how the Ronald McDonald House helped his family in a time of need. The state or province collecting the most tabs was Pennsylvania, second most was Iowa. The chapter collecting the most was the Bucktailers of Pennsylvania and second most was the Heartlanders of Iowa. Mary noted that Ontario runs its own annual tab drive and this year collected 1,273 pounds, which they donated in the name of FCRV to a summer camp for burned children. Following this, Comptroller Vodean Benham gave checks to the 2013 Miss FCRV and her court. The teens who manned the Family Fun Day on Sunday presented a check for $250.00 to FCRV Scholarship. Emcee Jim Hiatt thanked the equipment set-up/stage crew headed by Dan and Jayne Rouse and the sound crew, Randy and Diana.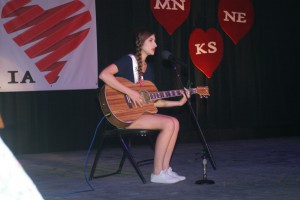 Entertainment was provided by the top-five talent winners in the miss FCRV Pageant: Brittany Huryn, Abigail Moats, Hannah Robb, Kerri McHale, and Miss Talent 2013 Erin Martone [left].  Three past Miss FCRVs also entertained: Faith Rasmussen, Kara Cornwell, and Alyssa Robb. Glenda Sellers thanked everyone for attending and especially thanked all those who volunteered to work on Campvention. Glenda said she was pleased with the attendance and how well Campvention went despite a few very warm and humid days. President Dave Ludwig then officially closed the 53rd FCRV Campvention.
To see more pictures of what happened at Campvention 2013 click one of the links below.