First place Softball team consisted of: Fletcher Shaneyfelt, Aaron Tauber, Shawn Crookedacre, Nick Kyte, Derek Klingensmith, Beth O'Neal, Jack Skillings, Peter Kurburski, Andrew Mazaik, Anthony Tennyson, Chris Whittmeyer, Casey Kuhnert, Megan Douglas and Amy Wittmeyer.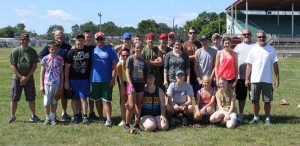 Teen softball players
We had 4 teen volleyball teams.
The winning team was coached by Alyssa Robb and consisted of: Fletcher Shaneyfelt, Kerri McHale, Beth O'Neal Katie Kurburski, Shelbie Pallas, Nick Kyte, Jack Skillings.
2nd Place team was coached by Chris Wittmeyer (who also played) and also consisted of: Amy Wittmeyer, Hannah Robb, Derk Klingensmith, Acacia Pallas, Andrew Mazaik and Peter Kurburski.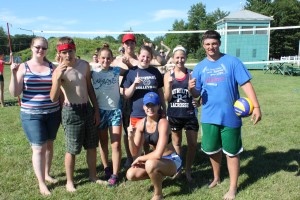 1st place volleyball
Relays consisted of two teams:
First Place was coached by Jill Serbousek and consisted of: Aaron Tauber, Hannah Nolte, Sierra Woolworth, Tara Bowen, Kegan Pelihan, Megan Douglas and Frances Wolf
2nd Place was coached by Kirsten Knapp and consisted of: Casey Kuhnert, Shawn Crookedacre, Anthony Tennyson, Lauren Pallas, Peyton Jennings, Meagan Pallas, Brina Underwood and Elliece Kuhnert.
There were no major injuries this year (thanks to our trainer, Nancy Coy for being there)! I think every teen enjoyed themselves and we all had a great time! Thanks also to Connecticut for their left over lemonade and cups from their hospitality. The teens really enjoyed the lemonade!!!
I believe all of the teens sports could be considered big league as there was a "fly over" at every game!!!!!
On to the Adult vs. Teens Softball Game: This game was very close all the way to the end. The game ended in a tie score of 11 to 11. So again, this will have to be continued next year to determine a winner!!!! We believe if we continue to have the family fun day on Mondays, this game would be a wonderful way to close the day out for evening entertainment.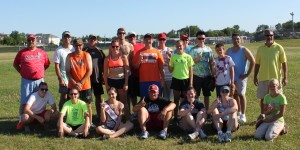 Adult vs teen softball players (tied game even though the teens are holding up the number 1).