Retiree Rally 2014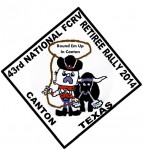 by Barb Turner, Publicity Chair
'Let's Round-up the Retirees' March 25 – 31 at the 43rd Family Campers & RVers Retiree Rally at the Canton Civic Center, Canton, Texas.  As we return to Canton, we look forward to enjoying the small east Texas town of 3,581 which swells to become Texas' seventh largest city on First Monday Trade Days, the oldest, largest, continuously operating outdoor market in the United States.  Despite its name, First Monday isn't held on the first Monday of the month.  Shopping days are on Thursday, Friday, Saturday and Sunday preceding the first Monday of every month, rain or shine, holiday or not with shopping areas that cover almost 400 acres and space for 7,000 vendors in five locations around the city.   Interested in experiencing this phenomenon?  Come to the Retiree Rally and stay for First Monday Trade Days.  You will make those arrangements with the Civic Center.
Merchandise ranges from new home furnishings and furniture, clothing, jewelry, candles, handbags and shoes, electronics, iron works and outdoor decor, plants, tools, great food concessions and more, to antiques, collectables, quilts, intricate crafts, folk and fine art, woodworking and live animals and pets of all types and sizes.
People say that if you can't find it in Canton, it probably doesn't exist!
How did such an event evolve?  According to various sources, the tradition began with district court meetings held on the first Monday of each month, or with the monthly visit of neighbors during the days of the Confederate States of America. The custom began with the swapping of surplus stock by barter and grew to include casual bargaining for or swapping of dogs, antiques, junk, and donkeys on a 30-acre (120,000 m2) grounds. It has become so immensely popular, that Canton goes from small town to a town of over 300,000 during the first Monday weekend, making it the largest flea market in the world..  In the past, due to the success of First Monday, the city of Canton had no property tax, however, as of 2006, which is no longer the case.  Check out www.cantontxfirstmonday.com.
Area attractions which might be of interest:
The Blackwell House – The Henry Fisher Blackwell II house, located on FM 859 (First Monday Lane) just one half mile north of Highway 64, is the oldest house in Canton. The house was built in 1886 by Mr. Blackwell and his wife, Nannie Jane Bartlett Blackwell. The house has been preserved as a museum and is available to rent for events such as weddings, receptions, etc. The Iris Garden Club of Canton maintains the beautiful gardens and lawn.  For more information about museum hours or booking the museum for an event, call (903) 848-0675 or (903) 567-4550
Canton Plaza Museum – Located in the old Canton Plaza Theater, the Canton Plaza Museum houses one of the largest bell collections in the state, a First Monday Museum and the Kennedy collection of Indian artifacts and models. It also features a variety of local historic items. The museum is operated as a private, non-profit museum.  Monday–Friday 8 am-5 pm, admission is free.
Hatfield Restorations – When you restore your special automobile you shouldn't have to deal with more than one source to get the job done. Hatfield Restorations is a full service restoration shop with 19 years of experience performing automobile restorations. Complete full restoration services.  They are equipped with a 25,000 sq. ft. facility.  Hours of Operation:  Monday – Friday: 7:30 – 5:00; Saturday: By Appointment Only.  www.hatfieldrestorations.com.
Hillcrest Cemetery – The oldest cemetery in Canton holds a great deal of Canton history. Look for the grave of D.C. White buried north and south after being hung for a murder in Van Zandt County history.
Savannah Winery & Bistro – taste wines from around Texas.  www.savannahwinerytx.com
Texas Roads Winery & Roadhouse – They sell over 30 Texas wines.  www.texasroadswinery.com
Additional info:  Gates will open for Early Bird parking on Friday, March 21st at 8 AM.  The Early Bird fee is $20 for water and electric and will be paid at Central Registration.  Central Registration will be open on Friday, March 21st.
All sites will have water & electric available.  Please bring an extra hose and electric cord.
All additional particulars are included in your confirmation letter which you'll receive after you register.  If you have any questions, please contact Penny & Bill Ramlow, Registration Chairs, at 21731 3rd Ave., Mt. Dora, FL 32757.  Penny – 813-545-6083.  Bill – 305-822-6589. pramlow@aol.com
Fun, fellowship, entertainment, games……the list goes on.  Enjoy it all at the FCRV Retiree Rally in Canton, Texas in March, 2014!  Be a part of the FCRV 'Round-up the Retirees!'