– Photos by Ron Standiford –
The 2013 Miss FCRV Pageant was held Tuesday, July 16th at Campvention in Amana, Iowa.  After  morning interviews and an afternoon of talent, the evening portion of the pageant began with the 13 candidates and escorts entering from the back of the audience, dancing to "Its Gonna be a Good Good  Night."  And a good night it was.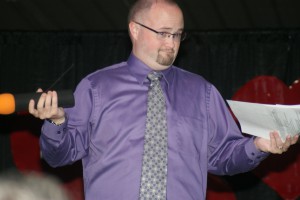 With Emcee Ross Shoemaker (who told a lot of bacon jokes) and the back stage people keeping things moving smoothly, members of the 2012 Miss FCRV Court in attendance were introduced – Miss FCRV Alyssa Robb, Second Runner-Up Rebecca Martone, and Third Runner-Up Emily Kurburski.
Segment one of the evening pageant was the reading of essays by the candidates on their choice from the topics school uniforms, volunteerism, or cell phones.
While the girls changed into their evening gowns, entertainment was provided by Emily Kurburski who did a Scottish dance, Rebecca Martone who sang "Popular," Alyssa Robb who clogged to "Devil Went Down to Georgia," and Faith Rasmussen who sang in Italian.
Appearing in evening gowns, each girl was brought through an archway by her escort and handed a rose by pre-teens Riley Ward and Brianna Duplante.  After all of the girls did their stage walk, they remained on stage for the announcement of the Top Five Talent Performances: Kerri McHale (New York), Abigail Moats (Iowa), Erin Martone (Florida), Brittany Huryn (Michigan),  and Hannah Robb (Kentucky).
While the judges left to deliberate, more entertainment was provided by Kara Cornwell, Miss FCRV 2009, Heather Borton who sang "Part of your World," and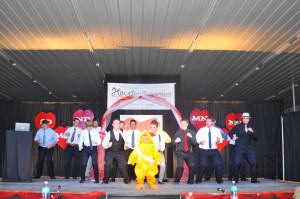 Michigan's Prince Luke Kurburski who led the escorts in "The Chicken Dance."
Upon the return of the judges: John Laverty, University of Iowa Admissions Director; Janet Brehm Ziegler, Music Professor; Susan Griffith, University of Iowa Alumni Director; Debbie Bailey, Social Worker; and Amy Ruth McGraw, Teacher; the contestants were brought back on stage and the five finalists were announced.  They were (in no particular order) Erin Martone, Hannah Robb, Abigail Moats, Brittany Huryn, and Kerri McHale.  All girls left the stage with each finalist returning individually and was asked the question, "What's the most important thing you have learned from being a member of Family Campers & RVers?"  All girls mentioned meeting people from other areas of the country and making new friends.
While the judges worked on their final decision, the escorts were introduced and got to 'ham it up' on stage: kings and escorts included Matt Rasmussen from Kansas, Eric Scott from Illinois, Luke Kurburski from Michigan, Jason Scott from Illinois, Rodney O'Neal from Illinios, Zachary Coleman from Kansas, Jacob Stewart from Iowa, Jack Skillings from Ontario, Shawn Crookedacre from Michigan, Clayton Cassidy from Alabama, Anthony Tennyson from Kansas, Shane Hoover from Pennsylvania, Blaine Kuhnert from Illinois, Parker Sherry from Pennsylvania, Chris Wittmeyer from New York, and Fletcher Shaneyfely from Illinios.  Pageant Chairman, Heather Borton thanked all who worked on the Pageant Committee including her Co-Charman Beth Camp, Emcee Ross Shoemaker, and National Teen Directors Ed and Jane Alft.  Backstage helpers were Brenda Duplanty, Kay Dilks, Kara Cornwell, Faith Rasmussen, Lisa Collier, Nancy Edwards , and Tara Mueller.
Before the results were announced, Miss FCRV 2012 Alyssa Robb took her final walk while Kara Cornwell read Alyssa's farewell remarks for her.  Alyssa said she enjoyed her year representing Family Campers & RVers and was grateful to everyone who helped and supported her as Miss FCRV, especially her family.
Once again all of the contestants were brought on stage to audience applause and the five finalists stepped forward.  The anticipation was palpable as the judges' final results were handed to the Emcee.  Selected as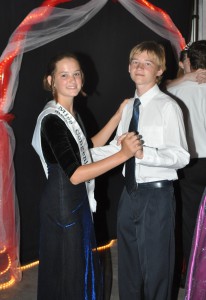 Miss Congeniality by the girls running for Miss FCRV 2013 was Beth O'Neal, daughter of Mike and Rhonda O'Neal of Florissant, Missouri, and members of the ALF Campers.  Beth's talent was reading the Civil War "Sarah" letter and is pictured here at the ball with her escort.   Fourth Runner-Up and Miss Talent was Erin Martone, daughter of Samantha Martone from Panama City, Florida, and a member of the Monroe Rebels.  Third Runner-Up was Kerri McHale, daughter of Sean and Barbara McHale from Carthage, New York, and members of the River Rovers.  Kerri's talent was a lyrical dance to "Concrete Angel."  Second Runner-Up was Abigail Moats, daughter of Marty and Kristine Moats from Ames, Iowa, and members of the InCaHi Chapter.  Abigail's talent was a clarinet solo.  First Runner-Up was Brittany Huryn, daughter of Edward and Donna Huryn from Washington, Michigan, and members of the Polish Pines Campers.  Brittany's talent was  playing the flute and singing "Jesus Take the Wheel."  Named Miss FCRV 2013 was Hannah Robb, daughter of Kimberlly Lile and Frank Robb, Louisville, Kentucky, and members of the Camping Colonels.  Hannah's talent was singing the Italian opera "Se Tu Ma' Mi."  Hannah was crowned Miss FCRV by her older sister, Alyssa, which also marked the first time sisters consecutively reigned as Miss FCRV.
Also participating in this year's pageant were Rebecca Coniglia from Spring Hill, Florida; Ashlee Yanke from Aurora, Colorado; Mercedes Tennyson from Owasa, Oklahoma; Deanna Gubbiotti from Oakville, Connecticut; Skyler Hoover from Dalmatia, Pennsylvania; Megan Douglas from Petrolia, Ontario; and Jessica Stuckwish from Brownstown, Indiana.
Plans are being made to incorporate a Teen King Contest into the Teen Queen Pageant.