Campvention goers enjoyed the Amana Colonies area of Iowa, especially the shops and restaurants.  The level grounds of the Event Center, originally built for agricultural fairs and nestled between corn fields, was a perfect setting for all Campvention 2013 activities.  Being so close to Iowa City, several took the tour of the Iowa City Ronald McDonald House.
Daily events included early morning coffee and donut sales, devotions, organized bicycle rides, door prize pick-up, band practice, jam sessions, crafts,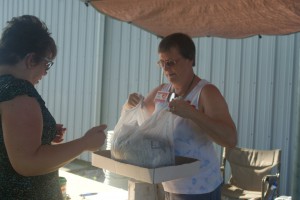 pull tab weigh-in [Mary Borton (right) oversaw the week's collection that would go to benefit the Ronald McDonald House], food bank collection, sports, and games.  The commercial building was open daily with seven vendors on hand plus FCRV merchandise.  Vendors included Adventure Caravans, ANPAC Insurance, Karen's Embroidery & More,  RV Parts Plus, Sarge Enterprises, SkyMed, and Sunrise Bedding.  The Wildlife fund raisers: silent auction, bird house and photo contests, were also set up in  commercial.  And a fabulous addition, unique to the area afforded fresh produce brought in daily for members to purchase from a local farmer.
Dawn Baker and her volunteers had plenty for the youth who were 12 years old and younger: such as Police & Fire Day, Water Fun  & Safety,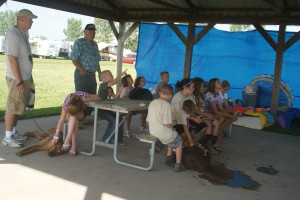 Pet  Show & Tell [left], Visit from the Zoo, Pond Exploration, Star Gazing, and the FCRV Parade.
Teens were busy also starting Sunday with the Family Fun Day where they manned the booths, ran the games and dunk tank, and served  a well attended hot dog/hamburger lunch.  Over the rest of the week they had a Tie Dying Party, Pizza, Murder Mystery, Jeopardy Tournament, Softball Tournament, Amazing Race, Volleyball Tournament, Slip  & Slide, and Home Made Ice Cream & Cake Balls, and Parade Float (featuring the Teen Queen Court).  They also went to a nearby water park as a group.  Teen  Queen  candidates and their escorts had additional things to do including pageant rehearsals, interviews, gift exchange, talent competition, the Tuesday evening Miss FCRV Pageant, and Wednesday night Teen queen Ball (for all teens).  Heather Borton, Elizabeth Camp, Marty & Christine Moats, Kara Cornwell, Ed Shaneyfelt and Ed and Jane Alft  shared the Teen events planning duties.
The adults also had activities starting with a Meet & Greet. Throughout the week there was Pegs & Jokers,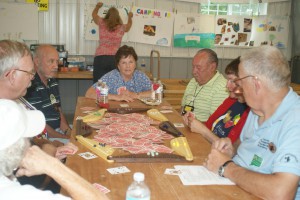 Euchre, Logo Game, Pictionary, Bean Bag, Bunco, Five Crowns & cards [right]. Sports  Competition in Horse Shoes and Washer Toss; Non-Competition in Ladder Golf and regular Golf; and Friendly Competition between the Adults and Teens in Volleyball and Softball.  Doug & Connie Black were Adult Activities chairmen.
Thursday following the FCRV Parade the popular Red Hat Luncheon [below left] was held.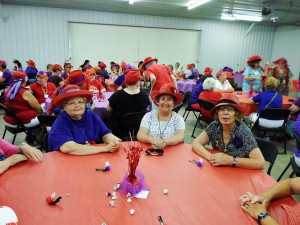 The guest speaker was a representative of the Amana Colonies who discussed family life in the early days.  Judy Hiatt hosted.  Something new this year was a Hard Hat Lunch [pictured below right] for the men hosted by Ken Kendall.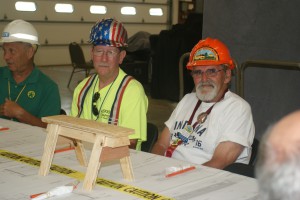 The tables were covered with blueprints and caution tape.  Miniature saw horses and carpenter pencils were given as table prizes.  Rich Gassman dicussed current day farming in the Amana Colonies.
There were numerous seminars throughout the week including  Dutch Oven Cooking, Medication Interaction, Anti-Aging, RV Maintenance, CPR, FCRV Website, Alaska by RV, New Cadet Program, Making Business Cards, Word Processing, Windows 8, Digital Photography, Green RVing, Using Social Media, Health Care Directives, L.E.D.'s, Historian workshop, Book Sharing, Geneology, Car Care for Women,  Healthy Food, Common Household Poisons,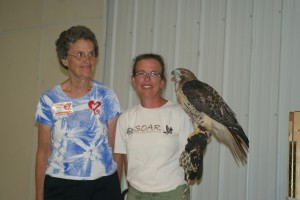 SOAR Bird Rescue [Pictured left is Glenda Sellers (L) nominated SOAR Raptor Recovery Center for a Wildlife grant. Linette Bernard (R) from SOAR with Bella.], Amana Land Management/Conservation, Full Timers, Recipe Sharing, Radio Controlled Model Airplanes, and History of the Amana Colonies.  Bev Risius was chairman.
What is a Campvention without meetings? FCRV State and Provincial Program Ddirectors met with their National Program Directors, the FCRV Executive Board met Saturday before Campvention officially opened, and groups such as the Ambassador Club, Kentucky Colonels, Full Timers Uie Club,  YARS, Winter Texans,  Amateur Ham Radio, and First Timers also met during the week.
Hospitalities are always a favorite activity.  States/Provinces, Regions, and other groups hand out treats and drinks such as ice cream, cookies, or root beer floats.  This year's hospitalities were hosted by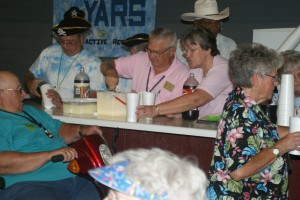 YARS [pictured below],  Pennsylvania, Trustees, Ontario, Michigan, Colorado, North Central West Region, and  Northeast Region.  LaNelle & Leon Ishmael chaired Hospitalities.
CAMPVENTION PHOTOS BY  DeWayne Johnston, Ron Standiford,  Janene  Feikert,  Gene & Pat Beasely.