Article & Photos By Barb Turner
Eleven young ladies represented their states or province in the annual Miss FCRV Pageant in Blyth, Ontario, at the 2012 Family Campers & RVers' 52nd Campvention.
Prior to the evening competition, the FCRV band played their traditional concert. Craig Weber was back conducting the band after he missed last year. The band was small but produced an excellent sound to the delight of the audience. Craig would like to see more band members at Campvention in Iowa next summer.
The evening teen queen competition began with the introduction of the FCRV Youth choir by Emcee Tammy Gregio. Natalie Rosenberger, granddaughter of President Jack & Sonya Smye, had suggested that the youth perform 'We Can Change the World' during the evening portion of the Teen Queen Contest. Lynne Rosenberger, Natalie's mother and daughter of Jack & Sonya, directed the youth whose performance was excellent. Thirty-five youth were registered at Campvention.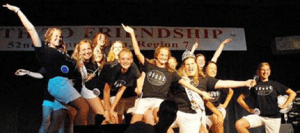 ……………………………..    …………………………………..    ……                     ……..                    …………….   …………    …… Queens and escorts opening the evening portion of the Teen Queen Pageant with a dance routine.  The escorts got to ham it up a little.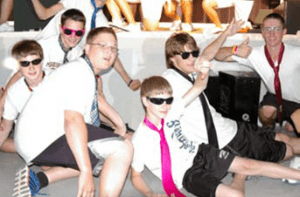 Following the Youth performance, the queens, kings, and escorts performed their rousing dance before the girls shared their essays in the poise and personality portion of the contest, followed by the evening gown portion. The talent portion was held in the afternoon.
While the judges tallied their calculations, Faith Rasmussen, Miss FCRV 2011, from Kansas took her final walk as MC Tammy Gregio read Faith's farewell message to her FCRV family. She thanked all who had helped, supported, and welcomed her as our FCRV 2011 queen. She emphasized the importance of FCRV in her life as her extended family.
1st Runner-Up & Miss Talent: Meghan Lawler (TX), 2nd Runner-Up: Rebecca Martone (MS), Miss FCRV: Alyssa Robb (KY), 4th Runner-Up & Miss Congeniality: Keitha Quigley (ONT), and 3rd Runner-Up: Emily Kuburski (MI)
Selected as Miss FCRV for 2012 was 18-year old Alyssa Robb, the daughter of Kimberly & Chris Lile, Louisville, KY, and members of the Camping Colonels Chapter. Alyssa has been a member of FCRV for 6 years. Her talent was tumbling. She will be starting Bellamine University in the fall to become a physical therapist.
First runner-up is Meghan Lawler, 17 years old, from Pflugerville, Texas. Meghan is the daughter of Julie Leith and is a member-at-large of MAL-TSA. She has been a member of FCRV for 16 years. Meghan was selected as Miss Talent for her color guard routine. She plans to attend college and possibly work with animals.
Second runner-up is Rebecca Martone, a 19-year old representing the State of Mississippi. She lives in Panama City, Florida, and has been a member of FCRV for 11 years. She is the daughter of Samantha & Mark Martone, members of the Monroe Rebels Chapter. Her talent was singing and dancing. Rebecca plans to graduate from GCSC with a bachelor's degree in business, go to cosmetology school, and run her own salon.
Third runner-up is Emily Kurburski, a 14-year old from Harbor Springs, Michigan, and daughter of Anne & Foster Kurburski. She has been a member of FCRV for 13 years and belongs to the Traverse Bay Travelers Chapter. Emily performed a Scottish hornpipe dance which is a Highland dance that demonstrates the work of a sailor. Emily plans to study at Michigan State University to become a business manager.
Fourth runner-up is Keitha Quigley, an 18-year old from Athens, Ontario, and the daughter of Kim & Jason Welburn. She has been a member of FCRV for one year and is a member of the Eager Beavers Chapter. Keitha's talent was a dance. Her ambition is to become a social worker and help the lives of children in care. Keitha was honored by her fellow contestants with the Miss Congeniality award.
The top talents were Sunny Dixon, 18 from Pennsylvania (baton twirling); Kaitlyn White, 13 from Missouri (hoola hoop routine); Alyssa Robb, 18 from Kentucky (tumbling); Meghan Lawler, Texas; Emily Kurburski, Michigan; and Rebecca Martone, Mississippi.
The other young ladies representing their states were Samantha Seymour, 19 from Aurora, Colorado; Lisa Marie Collier, 19 from Elma, New York; and Jennifer Snodgrass, 14 from Olmsted Falls, Ohio.
Performing during breaks while the judges were deliberating were Brittany Huryn from Michigan & 4th Runner-Up 2011; McKenzie McClellan, Michigan-FCRV Princess; Hannah Toth, former Kentucky-FCRV Princess; and Kara Cornwell, Miss FCRV 2010 from Kansas.
Pageant chairs were Michelle Collier, New York, and Kara Cornwell, Kansas.
The question that was asked of the final five was "How would you promote this organization to your peers to help FCRV continue to grow?" The girls provided interesting responses. Family, fun, and fellowship was a common thread in their responses.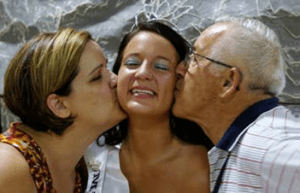 Alyssa gets a kiss from Mom & Granddad.
As the 2012 teen queen contest closed with our new queen, the states and provinces are encouraged to select their queens to represent them at the 2013 Campvention in the Amana Colonies, Iowa.