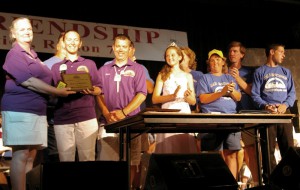 Illinois chapter Alf Campers of the greater St. Louis Area earned the honor of "FCRV Chapter of the Year for 2012."  The award goes to the chapter that excels in participation in programs of Family Campers & RVers, community activities, and publicity.
The chapter did various conservation projects throughout the year such as Adopt-a-Highway, Cardinals and Rams Green Team recycling, bottle and can recycling, and planting 20 trees in memory of Todd Baker. They also did fund raising for the FCRV Wildlife program and received a $500 grant for the World Bird Sanctuary in Valley Park, Missouri.
Teens of the Alf Campers organized pet food and supply drive for the Open Door Animal Sanctuary in St. Louis, presented a disaster awareness program on being a first responder, and had a winning FCRV Conservation Essay.
The chapter has put on several Disaster Awareness and Safety programs including spring and summer storms, water safety, and first response. Jill Serbousek is the chapter's D.A.S.A.T. director and was named recognized by the National Director for her work.
They are active in Self Propelled Camper (hiking/biking) program and at 14 campouts and walks 1 – 17 people logged 349 miles.
The women of the chapter keep a scrapbook of all the group's activities and display it at RV shows to promote FCRV. Their 2011 book won first place in the FCRV Chapter History contest.
An impressive list of community service activities all year long is praiseworthy and too long to list here. A few examples are: Lewis & Clark Confluence Tower tour guides, Soulard Mardi Gras pet parade, food drive at state campout for St. Louis food bank, Great American Backyard Campout to benefit National wildlife Federation, Ronald McDonald House Trivia Night, donation to n-kill Open Door Animal Sanctuary, made fleece blankets for St. Louis Children's Hospital, provided Christmas presents for St. Agatha's Adopt A Family program, attended Chocolate Festival fund raiser at Grafton.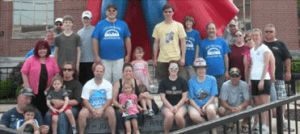 For publicity they helped man an FCRV booth at the January St. Louis RV Show, maintain a free web site (http://alfcampers.shutterfly.com ) for membership recruiting, and publish an online newsletter.