Having done it 5 times before, FCRV's Region 7 Canadian members used their experience to put on a fine 52nd annual Campvention July 13 – 20 at Blyth, Ontario. 314 families (292 on grounds, 14 camp passes, 8 day passes) including 60 first timers enjoyed an activity-packed week with community involvement, both giving and receiving.
FCRV hosted a benefit to raise money for tree planting in the nearby town of Goderich which was damaged by an F3 tornado last August. The well known CKNX Radio and TV Travelling Barn Dance Show performed at the arena Thursday evening, July 12, prior to Campvention opening with all proceeds going to the tree fund. Wednesday afternoon in the Goderich town square FCRV turned over a check for $2,500.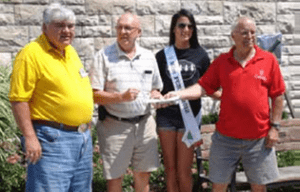 Hugh Hicks (R) presents a check for funds raised by FCRV to Goderich Mayor Deb Shewfelt (Center-L), accompanied by FCRV President Dave Ludwig (L) and Miss FCRV Alyssa Robb (Center-R).
The community of Blyth held its first ever Buskerfest with street entertainers, musicians and vendors on Saturday within walking distance of the camping area. Several local churches offered dinners for sale and the Lions Club operated a food booth. Horses and wagons were supplied by the community to transport campers from the grounds. The local police and emergency services were ready to help all week if needed.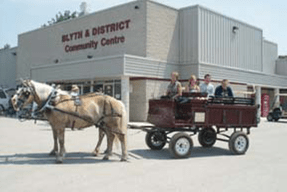 Some Family Campers catching a ride in for Blyth's Buskerfest.
A variety of seminars filled the week including Adventure Caravans, Epicure Selections, Presidential Active Lifestyle Challenge, Computer Skills, Niagara Tunnels, Going Green, Digital Storybooks, National Service Dogs, Printed T-shirts, Publishing Your Memoirs, High Impact Weather , Green RVing, Fuel Economy, Component Systems, and RV Maintenance.
Youth 12 and under found lots to do at the youth center including a sports day, singing practice, an "Amazing Race" scavenger hunt with teens, painting t-shirts, Perier bead creations, pet parade, tour of fire training facility, lunch with parents and the National Youth Director, and a movie night. The youth sang at the Teen Queen Pageant, Tuesday night and walked as a unit in Thursday's Campvention parade.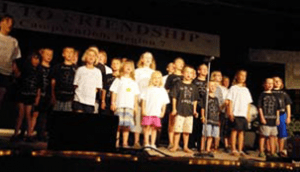 Youth singing at the Teen Queen Pageant.                                                            [Photo Credit: Campvention Photographer]

Teens had daily sports and playoffs in softball and volleyball. Teen Queen contestants had rehearsals for Tuesday's Miss FCRV Pageant, and the Queen's Ball was Wednesday night.
The Adult Center tent was open daily with cold drinks, board, and card games. Nightly activities after the main entertainment included a movie night, karaoke, card bingo, euchre tournament, and campfire. Off ground trips went to the Clinton Casino and a Wednesday afternoon beach barbeque in Goderich.
Adult Sports had competitions in washer toss, horseshoes, and, for fun, Crazy Golf. Golfers also got together at a local course.
Some daily activities included organized biking and hiking, Bible study, pull tab weigh-in, door prize pick up, crafts, jam sessions, and commercial area.
Vendors on hand were Tim Horton's, RV Parts Plus, Orwell Bond Pie Irons, Timber Art, Ebikebattery Shop Scooters, Perfect Image Printed Clothing, Kitchen Craft Cookware, Creative Memories Scrapbooking, Adventure Caravans Tours, Culbert's Bakery, Harrper Pottery, Beverly's Café, Pig Publishing "Magic Apples", Port Bruce Glass Arts, Epicure Selections Spices.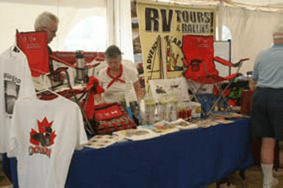 Just a small glimpse of the vast Commercial Tent.
Sunday morning, a non-denominational church service was led by Jim Stobbart and Dennis James. The FCRV Choir was directed by Jean Redford and accompanied by Jean Keenlyside. The Hand Chime Choir took part with Karen Snodgrass on flute and the Chapelaires provided a gospel concert.
Monday was a busy day starting with the flea market and craft sale.
Tuesday morning brought the popular pet parade. Specialty groups, UIE Club, Full Timers, Kentucky Colonels, Ambassador Club, etc. had get-togethers. Tuesday also brought the Teen Queen Tea followed by the Talent portion of the Teen Queen Pageant in the afternoon.
Wednesday was the well attended Red Hat Luncheon. Peggy Lins of MD was chosen as "Queen Mum."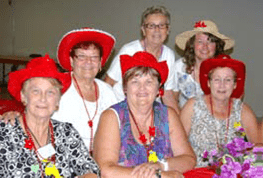 Some of the ladies in attendance at the Red Hat Luncheon.                                               [Photo Credit: Barb Turner]
Midday Wednesday a 60-vehicle noise parade led by police delivered the benefit check from FCRV to Goderich Mayor Deb Shewfelt at the town square. The $2,500 will go to replace trees destroyed in last August's tornado. FCRV's Teen Queens took part in the presentation.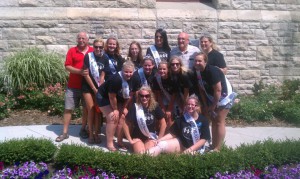 Miss FCRV 2012 Contestants assist Hugh Hicks (L)                                                   with check presentation to Mayor Deb Shewfelt (Back-R).
Hospitalities throughout the week were hosted by the Great Lakes Region, FCRV Trustees, 2013 Iowa Campvention, Ausable River Nomads, and Region 7 which was a Monday lunch.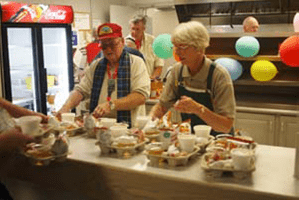 Region 7 (Eastern Canada) hosting a lunch hospitality.                                             [Photo Credit: Campvention Photographer]
In wrapping up the week, Chairmen, Hugh and Camy Hicks said, "The weather could have been cooler, the attendance could have been higher, but we couldn't ask for better committee workers and we hope everyone had fun."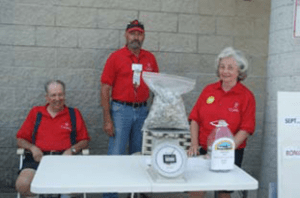 Collecting pop tabs netted cash for the local Ronald McDonald House.