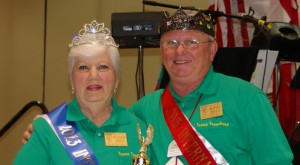 Tommy and Alice Garner of LaGrange, Georgia were elected as the 2013 FCRV International Retiree King and Queen  at the Family Campers & RVers annual Retiree Rally, held this year in March at Rayne, Louisiana.
The Garners have enjoyed traveling throughout the country for the past 30 years by car and started RVing in a motorhome in 2005. They are members of the Troup Travelers Chapter of FCRV and have enjoyed meeting new friends at various campouts and rallies.
Tommy and Alice were high school sweethearts and married while Tommy was in the Navy. They have been married 46 years and have two children, Tim and Tracy as well as three grandchildren – Cody, 19, Meghan, 17, and Chance, 5.
Tommy retired from AT&T after 41 years. Alice retired from the Troup County School System after 28 years of service. Tommy enjoys fishing, golf and is a fan of football, baseball, and pro golf. Alice loves crafts, sewing, working with children, and volunteering with the church and hospital auxiliary. Together they are passionate about travel and will be representing Family Campers & RVers in the coming year.